Logistics
The Triple Rail Site offers an unique opportunity in rail service. The site offers a choice of 3 rail connections for comprehensive Class I coverage east to west, north to south, continent to continent.
Rev up your reach and jumpstart profitability through the power of dynamic connectivity in a premier Heartland location. Paducah puts your operation on the move and in the lead. The desirable location puts your company in command of a distribution network that delivers with lightning speed and precision even as it lowers overall costs. Ship both swiftly and strategically, leveraging the omni-modal flexibility of rail, barge, interstate and air connections, plus critical proximity to key metro markets like Nashville, TN, Memphis, TN and St. Louis, MO. Expand opportunities as you expand markets. Meet deadlines and profitability goals as your operation runs faster, stronger, leaner. Put the power of Paducah in motion with:
Unparalleled Rail Access. Unrivaled Class I Reach.
Cover the continent with Class I speed, thanks to direct service by Canadian National (CN) and Burlington Northern Santa Fe (BNSF) and short line access to Chessie System with Seaboard Coast Line (CSX) and Norfolk Southern (NS). With Paducah and Louisville Railway (P&L) short line service, Paducah's Triple Rail Site offers swift, low-cost connections to CN, CSX, BNSF and NS. The ownership of county trackage rights also makes Union Pacific (UP) another powerful Class I option for the future.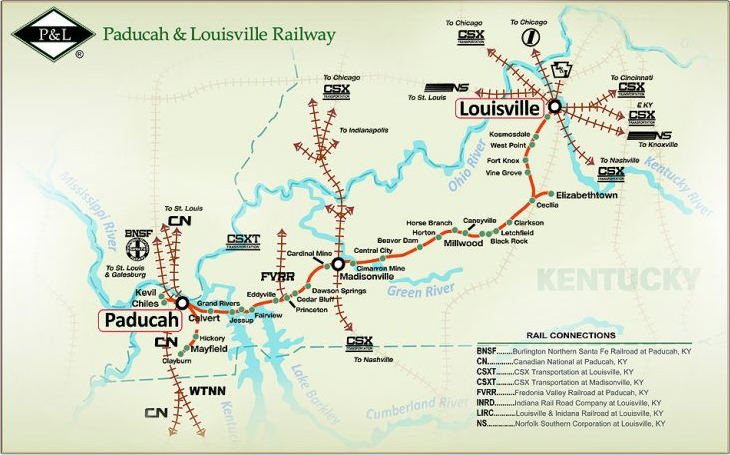 Powerhouse River Presence. Five-River Flow.
Take the lead through best-in-class inland barge shipping from an incomparable location: At the confluence of the Ohio, Tennessee and Cumberland Rivers, just miles from the Tennessee-Tombigbee Waterway and the Mississippi River. Momentum is unstoppable at the Paducah Riverport, the nation's northernmost ice-free riverport facility which offers anytime, everywhere access, including exclusive inland access to both New Orleans, Louisiana and Mobile, Alabama. As a national hub for commodities shipping the Riverport goes far beyond location in compelling advantages. The Paducah-McCracken County Riverport offers superior capabilities, equipment and expertise in bulk and liquid cargo and barge-line repair. This expertise makes the Riverport the preferred inland choice as manufacturing moves toward more sustainable models, both economically and environmentally.
For more information on the Paducah-McCracken County Riverport Authority, click here.
Interstate Ease and Speed
Power through schedules with cost-effective interstate advantages. I-24 runs through the heart of Paducah, putting 67% of domestic markets within a 24-hour delivery time. Central markets like Nashville and St. Louis within 3 hours and Atlanta roughly 6 hours away. Interchanges with 6 other interstate routes within 150 miles also open options and accelerate reach.
Convenient Air Connections
Commercial air travel is a breeze at the Barkley Regional Airport, thanks to daily flights to Chicago and one-stop connections to more than 200 destinations worldwide. The terminal offers superb facilities: including two runways at 6,500 feet and 5,500 feet, FAA-certified repair service, outstanding concierge and charter services including air cargo. These amenities assure efficiency and sky-high satisfaction for executive travel as well as other transit needs. The new terminal project at Barkley Airport is a foundational and transformational project for the airport, Paducah, and all of far Western Kentucky. It is the culmination of decades of work and years of planning. The expected opening of the new Terminal is Spring 2023.