GPED Launches Retooled Website
October 13, 2020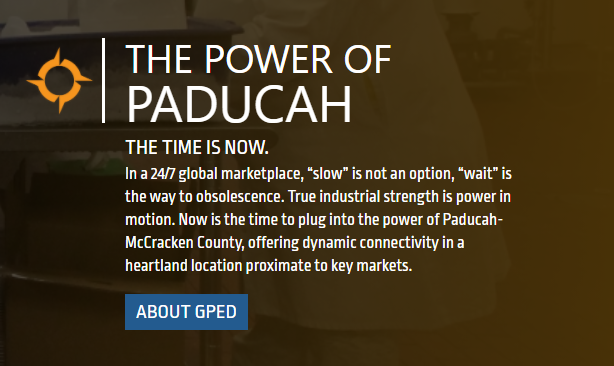 Greater Paducah Economic Development recently unveiled a revamped website designed to better market the community's assets and ultimately create job growth. "We've known for a long time that we needed to improve our web presence as part of our overall strategy," said Bruce Wilcox, GPED's President & CEO.
According to Wilcox, the strategy involves concentrating on four core areas to fill the organization's pipeline for job creation. "No. 1 is improved visibility, and that's what the website does. It will be the gateway or portal through which site selectors and prospective companies can find out about GPED and our community and the assets we have available," he said. The second piece is the Kentucky Cabinet for Economic Development, which we have a positive relationship with, and our site also links directly with theirs in certain places, commented Wilcox. The third piece is site selectors and being able to get in front of and work with them. Site selectors play a critical role in the process; "sometimes it is not site selection, it's site elimination, and the website falls in line with that", according to Wilcox. The fourth core is direct recruitment, in which the website also plays a critical role by providing easy access to a wealth of data and information about Paducah and McCracken County.
The website features the three main sites available – the Triple Rail Site, Commerce Park, and the Industrial Park West – which GPED promotes, but also smaller assets of property commercially available throughout the area.
A demographics dashboard provides information on population, housing and workforce availability.
The site, epaducah.com, also features local information about business expansion with features on companies like Dippin' Dots, as well as information about the organization's staff, board and investors.
Special thanks to David Zoeller with the Paducah Sun. To read the article in its entirety visit https://www.paducahsun.com/news/gped-launches-retooled-website/article_895b3958-dd05-5adf-a4b5-5743c60821dc.html