Addressing Economic Development Constraint Through Partnership
October 4, 2019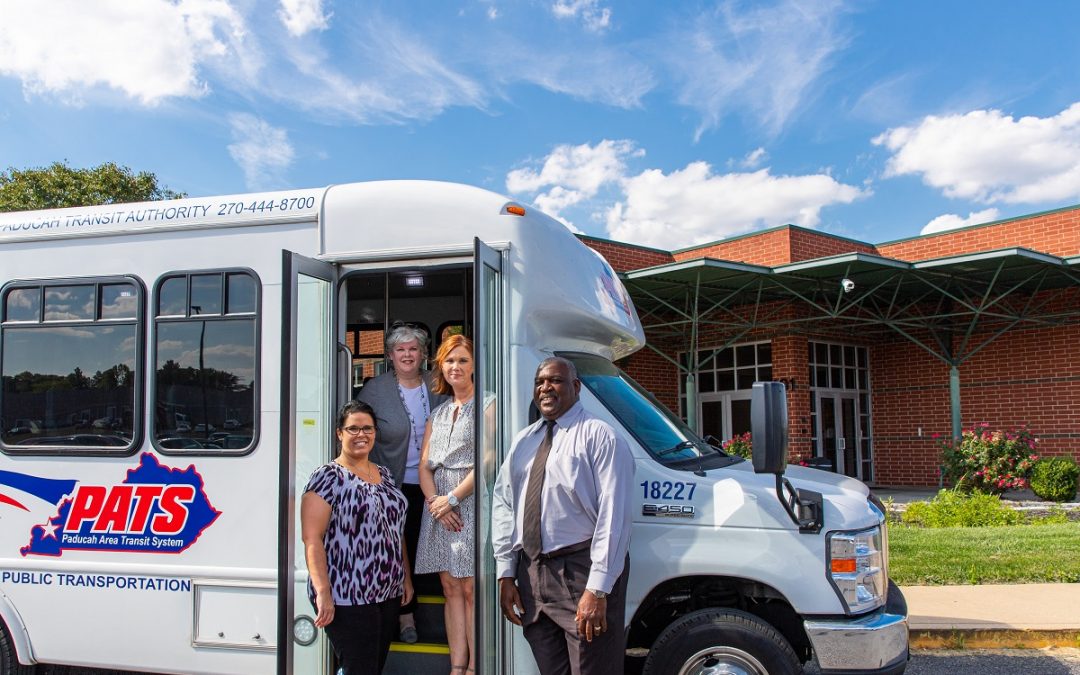 PATS Expands Transit Route to Include Paducah's Commerce Park
The Paducah Commerce Park is home to many thriving businesses in McCracken County. Credit Bureau Systems, Inc., LYNX Services, LLC, a Solera Company, TTEC Holdings, Inc., Superior Care Homes, and Swift & Staley are among the park's tenants. Leaders from these five businesses recently approached GPED with a neighborhood challenge for which they were seeking a solution: access to reliable transportation to and from the Paducah Commerce Park.
Every day residents of the City of Paducah experience challenges with transportation that can be barriers to obtaining a job and maintaining a job. Kim Jones, HR Manager for LYNX Services, LLC, is among the executives who have seen these challenges first hand. She tells the story of Jennifer, one of her staff members, who has been one of their employees since 2015:
"Transportation has always been a challenge for Jennifer. Every workday Jennifer walks to the PATS terminal to catch the bus. She rides the bus as far as the line will take her: to the Anderson Technical Building on the campus of West Kentucky Community and Technical College. The final mile of her journey to work required Jennifer to take a taxi – at a cost of $6.00 each way. The combined cost of her bus pass and taxi is $67.50 per week."
Jennifer is not alone. There are hundreds of people employed by businesses in the Commerce Park in McCracken County who face this same challenge. Upon learning of this demonstrated need, Heather Pierce, Project Manager for Greater Paducah Economic Development went to work with the Paducah Commerce Park businesses to help them find a solution.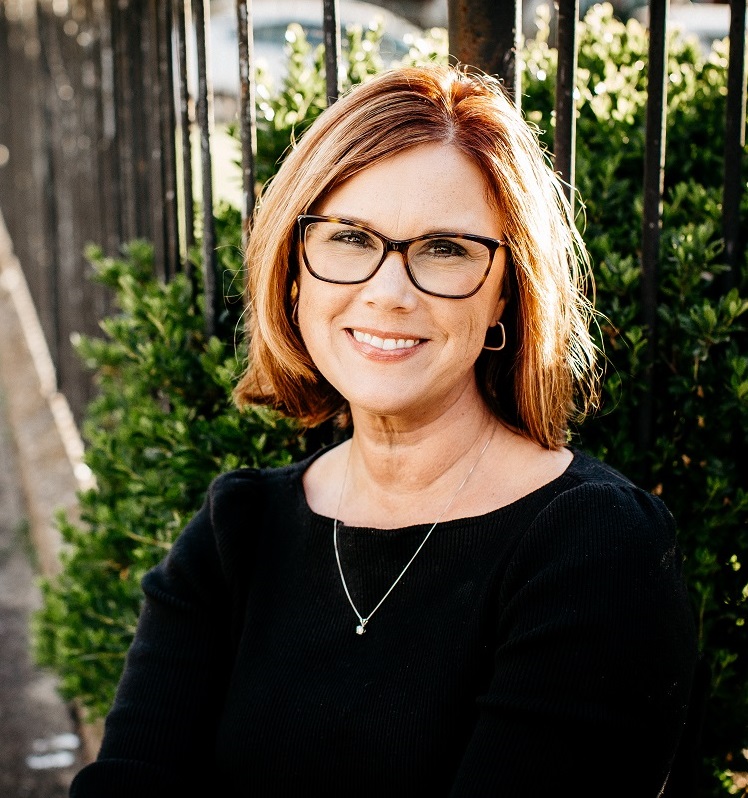 "One of the main missions of GPED is to assist our current employers in retention and expansion efforts," explains Heather. "The tenants of Commerce Park came to us with a transportation issue for some of their employees. Transportation to work is difficult for people in our community. That difficulty leads to retention, absenteeism and other issues in the workplace. GPED wanted to address this issue for our Commerce Park tenants. Upon recognizing this as a workforce development issue, we called upon the West Kentucky Workforce Board who tasked Mary Anne Medlock, Business Liaison, to join us in finding a solution."
That solution is the addition of a new bus route by Paducah Area Transit System (PATS). This new route will provide service to the Paducah Commerce Park in an effort to meet the transportation needs of current and future employees of the park's businesses.
"Public transportation is a crucial component of economic growth," said Arthur Boykin, Executive Director of PATS. "We are currently running one route a day to the Commerce Park. The route begins at 6:45 a.m. with a drop off of 8:00 a.m. Return routes begin at 5:30 p.m. We are examining the possibility of adding addition drop times."
There are three pickup locations along the route: Southside Walmart, Hannan Plaza, and Cardinal Point. Walking maps have been developed for each pickup location to illustrate the location of the pickup spot as well as the five and ten-minute walking zones surrounding that location. These maps will assist people living in those neighborhoods to find their closest pickup location. The City of Paducah joined the initiative and has provided address information for households who qualify for the PATS program that can be used for direct mail initiatives related to the new PATS route, the walking map for their specific neighborhood as well as information about employment opportunities within the Paducah Commerce Park.
The three walking maps are available for download below. Route pickup times for each location are noted.
Southside Walmart Map – Pickup time: 6:55 a.m.
Hannan Plaza Map – Pickup time: 7:10 a.m.
Cardinal Point Map – Pickup time: 7:20 a.m.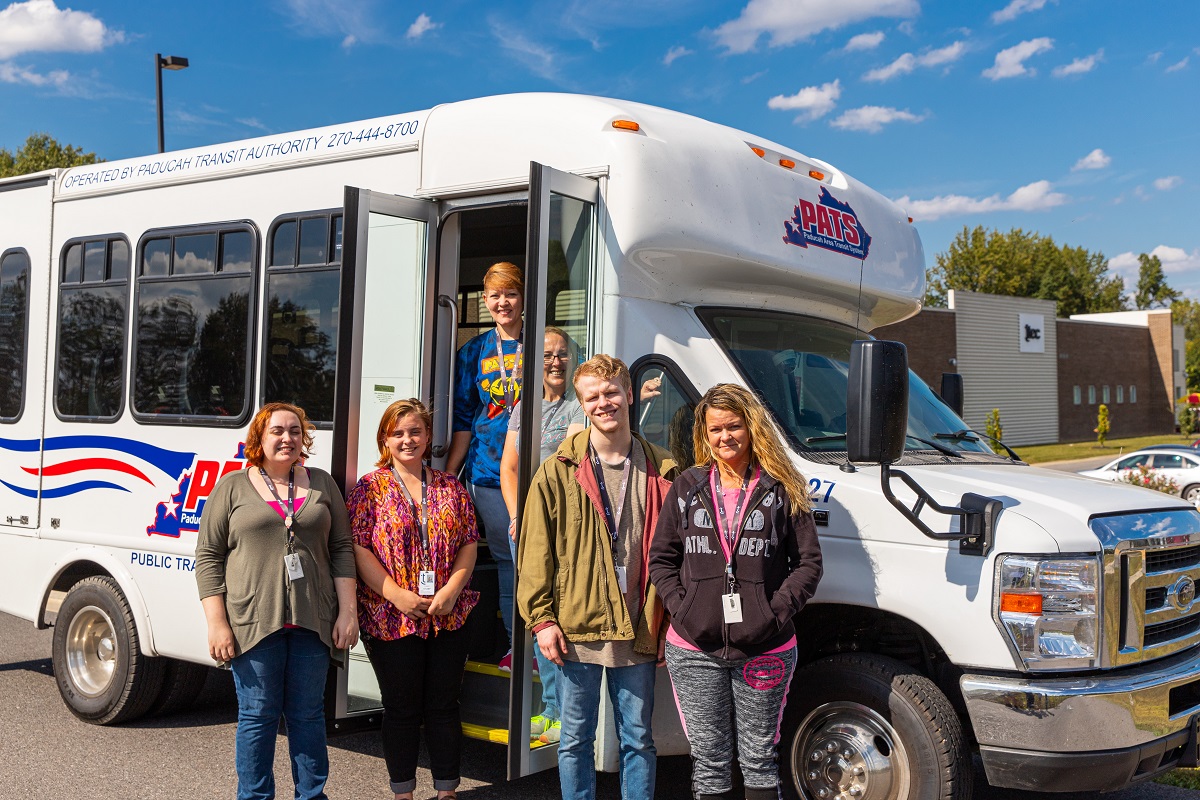 "This new bus route is an example of what can happen when employers and our local leaders come together to solve a problem for the benefit of its residents," says Mary Anne. "Transportation was a neighborhood problem for the employers in the Commerce Park. These leaders came together to seek a solution. Greater Paducah Economic Development showed their support as has the City of Paducah in facilitating the conversations necessary to bring forth a solution. The route has just begun, but we can already see the positive impact it is having on the lives of those it is serving."
Jeremie Light, Sr. Service Delivery Manager, Operations of Teletech, also expresses gratitude for the new bus route: "The transportation addition of having PATS coming out to Commerce Park is a great resource for us as not only are we able to assist people that would not have been able to keep employment due to transportation but also adds this into our toolbox to help recruit to more of the community that may have transportation needs."
"This project is an example of the business development gains that can be made by employer-driven projects," concludes Heather. "We are proud to have helped these employers find solutions to meet the needs of their staff. We hope this new bus line proves to be a valuable resource for the current and future employees of the Paducah Commerce Park."